We
love celebrating and decorating our home for all of life's occasions. Seeing symbols of LOVE throughout the home speaks from the heart to all who live in the home and to all who enters. As mothers, those little "decorations", we put out will hopefully give us the chance to teach our children a little something about Gods love for us and how we are to love others. There really is an opportunity to teach in all that we do. We just need to be mindful and take the opportunities. So we would like to show you a few of the decorations we have out in our home this Valentine's season that speak to love and its opportunities.
wreath
recently in its former life. To avoid spending needlessly, we just added a few more roses to the wreath and changed out the red ribbon for black. With just a few very easy changes, the wreath takes on a different feel altogether.
Spirk Space
to use. They have some amazing free printables their. We placed it in a black Dollar Tree frame and added some heart embellishment to it. Thrift store heart bottles, last years Target heart tray and old silk flowers add to the arrangement.
It Is What It Is
. Beth, the designer shows how this one free print can be used several different ways.
Paiges of Style
that we love.
If it is possible, as far as it depends on you,
live at peace with everyone.
Romans 12:18
Linking to: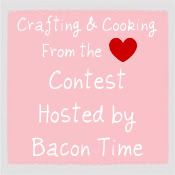 http://whipperberry.com/2012/02/friday-flair-link-party-11.html?utm_source=feedburner&utm_medium=feed&utm_campaign=Feed:%20Whipperberry%20(WhipperBerry)