In today's Feature Friday spotlight we are happy to present to you, Paula of Natural Garden Soaps Etsy shop and Paula Parrish Blog. Paula brings you h
andmade soaps crafted with organic and natural ingredients. All of Paula's soaps are made with only essential oils, distilled water, Paula's own garden herbs, the best fruits and vegetable oils. All products are environmentally friendly, biodegradable and moisturizing to your skin. All of the dried herbs in Paula's soaps are from her own backyard organic garden and hand crushed with love.
Now, isn't that reassuring! She has our stamp of approval. If you are looking for this type of quality in the products you use on yourself and family, and want to give to others, check Paula out.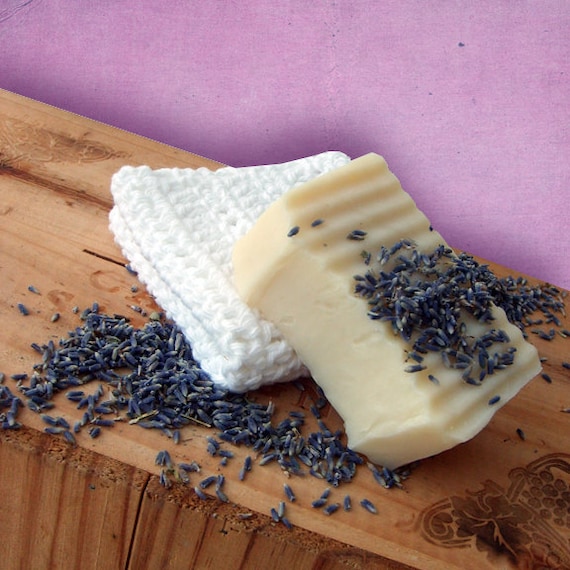 Lavender Shea Butter Soap and Wash Cloth
Getting to know Paula of Natural Garden Soaps
"Most days you will find me in my organic garden, on my computer or making soap.
My soap making skills started with my love for gardening and growing herbs. All of the dried herbs in my soap are grown in my own backyard.
What's the appeal of buying handmade soap? Commercial soaps are usually drying and many are actually synthetic detergents. Hand-crafted soap will work better. Homemade soap has a special, moisturizing luxury feel. Plus I have the option of customizing my bars with different ingredients … the scents are never ending. As well as buying handmade from individual artisans is so much fun.
I strive to incorporate earth friendly practices in my craft and business. I try to use only carefully selected second hand or vintage items to create eco friendly packaging, soap..."
(read more)
Lemon Grass Linen & Room Spray
Perfect Mothers Day gift giving ideas!
Paula Parrish Blog
We hope you have enjoyed getting to know Paula and her unique, natural soaps and body products. Pamela would love for you stop by and pay her a visit. And don't forget about those Mothers Day gifts!
Whoever digs a pit will fall into it,
And he who rolls a stone will have it roll back on him.