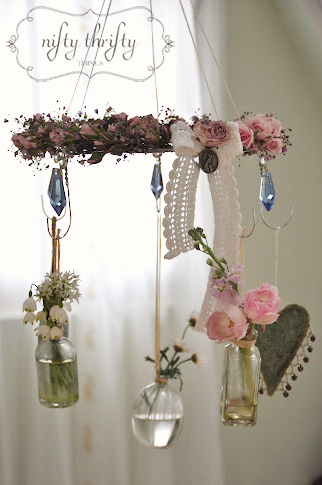 Nifty Thrifty Things: Wire Hanger Chandelier
Things we saw, loved and wanted to share
We are changing things up a little bit on Friday's around here. Instead of our normal Feature Friday where we focus on one spectacular Etsy shop or blog, we thought it would be fun to bring you a collection of some of the creative inspiration we came across and loved recently. So now, Feature Friday is known as "Friday Features"!
At lest for a little while anyway.
Maybe one of our finds belongs to you!
Don't you just LOVE the chandelier above!!!
We love what Vanessa of Nifty Thrifty Things and her mother did with clothes hangers! Just love the hanging bottles. So romantic and unique. So creative.

Torie Jayne: Washi Tape Bunting

We just recently found Torie Jayne's blog and fell, HARD in love.

36th Avenue: Dry Clay Pendant

Desiree of 36th Ave. is extremely talented. She can do a little bit of everything and it's all GOOD!



My Party Passion: Recycled Materials Party Favor

Love how My Party Passion is a frugal minded party planner and can make a great party on a little budget.




Design Dinning and Diapers: Vases and Votive Candles From Recycled Jars

Design Dinning and Diapers makes a pretty vintage statement with these vases.
Love this dessert table from the colors to the bunting Kristyn made and put together.
What a difference a little paint makes on these vases from Live Gorgeously.
Soft, vintage, charming and pretty coffee filters turned flowers from Two Shades of Pink.
LOVE! LOVE! LOVE! This is just spellbinding to us from Family Fresh Cooking.
How a frugal turned some string in to the trendy bakers twine from A Step In The Journey.
So much creativity and inspiration!!!
We hope you have been inspired by all of these talented ladies! What hidden talents have you not yet expressed and shared with others?! Be inspired. Get creative!
In mercy and truth
Atonement is provided for iniquity;
And by the fear of the

Lord

one departs from evil.
Proverbs 16:6