Lips and cuticles a little dry and cracked? Time to moisturize and heal them with a healthy homemade balm. This balm is great year round, not just for the harsh Winter months. Easy to make with easy to find natural ingredients too!
Here is a look at a few of the ingredients we used in our balm.
We are recycling and re-purposing today also. We set these mint tins aside for just such a purpose. Make sure you thoroughly clean and dry your container prior to filling.
We used this beeswax we ordered online. This can also be found at health food and natural food stores as well.
We scented our balm with Watermelon.
Smells like delicious Watermelon.
~Healthy Lip & Cuticle Balm Recipe~
For the complete recipe, directions and more interesting posts, please visit
The Coconut Mama
.
Additions to recipe we made: watermelon flavor/scent oil.
After carefully melting the ingredients we added in our watermelon oil and stirred quickly and gently and poured it into the tin to set up.
Let set up for about 25 minutes or so. This recipe is really creamy and feels so good on the lips and the cuticles love it too!
Not that you would normally gift lip balm so much, but when you make up a healthy one yourself, well, that changes things doesn't it.
The glory of young men is their strength,
And the splendor of old men is their gray head.
Proverbs 20:29
Linking To: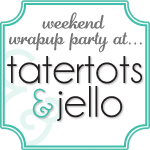 http://whipperberry.com/